September 27, 2018
AMEFREC - your passport to Japanese Market!

Looking for a distributor in Japan?
AMEFREC actively procure and promote new product from overseas. Please feel free to contact us!





ABOUT US
OUR BUSINESS

Import

Import of HVAC&R product from overseas.

Wholesale

Sales of domestic & imported HVAC&R product and related parts and materials.

Manufacturing

Environmental test chamber, precision chiller and air conditioner.

Engineering

Clean room design and installation.
COMPANY PROFILE

Company name

AMEFREC Co., Ltd.

Address

Tokyo office   1-2-15 Bijogihigashi, Toda, Saitama 3350032 JAPAN
Osaka office   2-40-10 Mizudocho, Amagasaki, Hyogo 6610026 JAPAN

President

Katsushi Tsuchiyama

Establishment

February, 1936

Amount of Capital Stock and Capital Surplus

1,804 million JPY

Sales

14,282 million JPY (as of March 31, 2019)
DISTRIBUTION IN JAPAN
Are you looking for a way to sell your product in Japanese market? --- Let us help you!
We, Amefrec Co., Ltd. have grown as a leading company in Japanese HVAC&R market since its foundation in 1936. As a distributor, having with our sales network all over Japan and strong relationship with customers based on our experience over 80 years, we will provide valuable support for overseas manufacturer who are considering to move in Japanese market.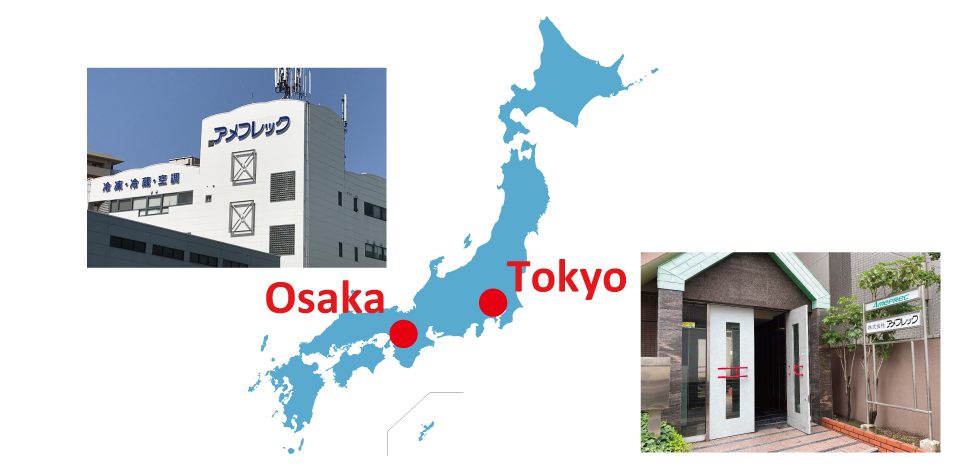 If you have any quesstions about AMEFREC, please fill out the form below.
| Inquiry for Product Sales |     | General Inquiries |